6 Smartsheet Premium Apps to Improve Productivity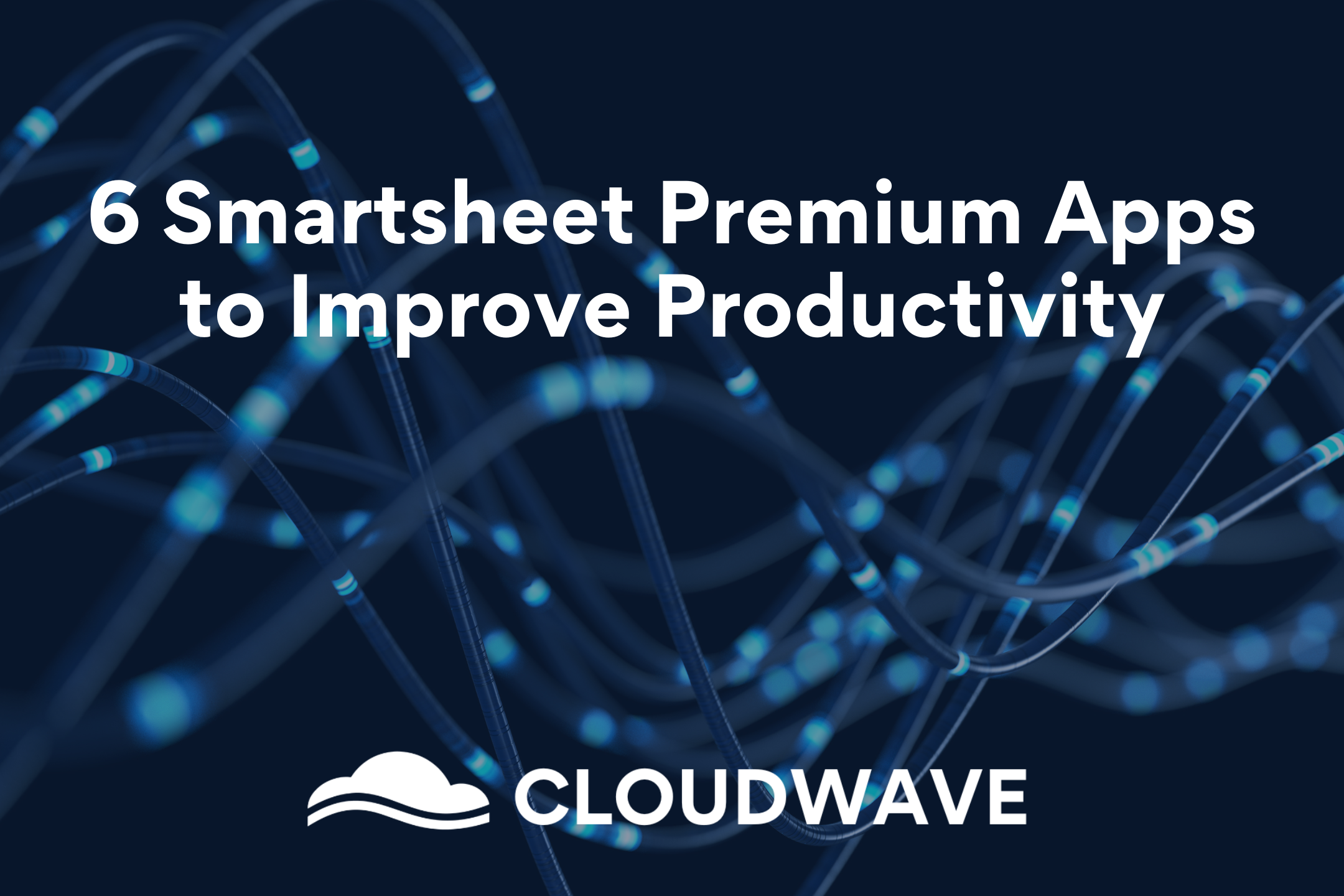 Smartsheet is a versatile work management platform that empowers businesses to streamline their operations, manage projects effectively, and collaborate seamlessly. While Smartsheet provides essential features for project management, its premium apps take your workflow to the next level. In this blog post, we'll explore six Smartsheet premium apps, each designed to enhance specific aspects of your work processes.
1. Calendar
Efficient scheduling and task management are vital for successful project execution. The Smartsheet Premium Calendar app is a game-changer in this regard. It seamlessly integrates with your Smartsheet sheets and reports, providing a detailed visual representation of your project timeline. You can access milestone dates, deadlines, and tasks all in one place. The Premium Calendar app helps you and your team plan, track, and manage tasks more effectively, improving project efficiency.
2. Control Center
Centralizing project management and maintaining consistency across multiple projects is a challenge for many organizations. Smartsheet's Control Center app is the solution. With this premium app, you can create standardized project templates, ensuring that all projects follow the same structure. Automation features streamline workflows, task assignments, and progress tracking. Gain a comprehensive overview of project statuses to make informed decisions and optimize resource allocation.
3. Data Shuttle
Efficient data import and export are crucial for maintaining a seamless workflow. Smartsheet's Data Shuttle premium app simplifies these tasks. Whether you're migrating data from other systems or integrating Smartsheet with external datasets, Data Shuttle streamlines the process. It ensures data accuracy, integrity, and consistency, enabling you to maintain a well-connected and cohesive workflow.
4. Data Mesh
Aggregating and maintaining data can be a time consuming process. Smartsheet's Data Mesh premium app caters to organizations with demanding data needs. It provides streamlined means of consolidating data across sheets, allowing for less maintenance, cleaner data, and optimized collaboration. Data Mesh is a powerful tool for elevated data management and optimizing your workflow.
5. Dynamic View
Customizing and presenting your Smartsheet data in a user-friendly and interactive manner is made easy with the Dynamic View premium app. This app lets you create dynamic and collaborative views of your data, which can be shared with team members and stakeholders. Dynamic Views enhance data accessibility and help teams collaborate more effectively.
6. Pivot
Pivot tables are a powerful tool for data analysis and reporting. Smartsheet's Pivot premium app brings this capability to your work management platform. You can analyze and visualize your data in pivot tables, creating interactive reports to gain deeper insights into your projects and tasks. Pivot tables simplify complex data analysis, making it accessible to users of all levels.
Level Up Project Management with Smartsheet Premium Apps
Incorporating these premium apps into your Smartsheet workflow can significantly enhance your project management, data analysis, and collaboration capabilities. Evaluate your specific needs and consider how these premium apps can optimize your workflow and drive success in your projects.
Smartsheet Project Management Solutions from CloudWave
If you're considering Smartsheet for project management and data analysis, look for a Smartsheet Platinum Partner like CloudWave who understands the technology best practices and prioritizes your unique business needs.
Through Smartsheet integration, we deliver cross-platform functionality​ that helps you bring your system together for an end-to-end solution within Smartsheet​. Using automation, we reduce tedious manual processes to save time and improve productivity.
CloudWave also provides Smartsheet support throughout the entire project lifecycle - defining scope, architecture, design, development and deployment.​ As your data environment constantly changes, we offer continued support beyond the project in an ever-shifting digital landscape.
To learn more about some of our successful Smartsheet projects, check out our case studies.
If you are looking for an experienced Smartsheet partner, reach out to our experts at CloudWave today.